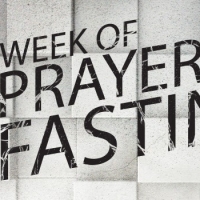 Week of Prayer 2016
January 19, 2016
Join us for week of prayer and fasting from January 25th through the 29th. Every night will be a time of interecession and minisry as we look to God for our church, families and our communities.

Monday, Jan. 25th, 7pm - Women's Prayer
Tuesday, Jan. 26th, 7pm - Men's Prayer
Wednesday, Jan. 27th, 630pm - Church Prayer Meeting
Thursday, Jan. 28th, 7pm - Church Prayer Meeting
Friday, Jan. 29th, 7pm - Prayer Concert

NO CHILDCARE WILL BE PROVIDED ON MONDAY, TUESDAY, AND THURSDAY.
Back